Pada 6 s.d. 7 Juni 2014 saya diberi tugas oleh rektor untuk mewakili UAD dalam rombongan  kunjungan kerjasama APTISI V ke Fatih University di Istanbul Turki. Rombongan terdiri atas perwakilan beberapa PTS termasuk UAD dan Koordinator Kopertis V. Sebelum penandatangan kerjasama, delegasi dari APTISI mengikuti konggres internasional terlebih dahulu  tentang tren perguruan tinggi dunia khususnya dalam mengembangankan academic entrepreneurship. 
International Congress on Trends in Higher Education (ICTHE 2014) di Fatih University Turki
Konggres internasional ini diikuti oleh negara-negara yang berasal dari  5 benua, meliputi Amerika, Eropa, Asia-Oceania termasuk Australia dan Afrika. Sekalipun topik utamanya tentang kewirausahaan, namun ternyata konggres membahas pula materi-materi lain yang saat ini tengah menjadi tren di dunia perguruan tinggi. Topik-topik yang dibahas dalam konggres tersebut  meliputi:
Information Technology in Education
Teaching tools, techniques, methodologies
Education Contents Management Systems
Learning Environment
Educational Infrastructure
Entrepreneurship in  Education
Universities Social Responsibilities
Universities,  Industry and Government Collaboration
Education Open Innovation
Education Innovation Networks
Education Globalization
Culture Diversity and Responsibility in the Global Context
Creativity, Innovation and Higher Education
Management and Financing of Higher Education
Roles and Responsibilities
Synergy between University and Business Community
Brand Image, Markets, and Accountability
Technology in Higher Education and Digital Learning
Resource Management in Higher Education
Visions for future Universities
Distance Education in Higher Education
Nilai-nilai yang dapat diambil dari konggres ini antara lain, bagi pergurun tinggi khususnya UAD semakin penting mengembangkan pendidikan kewirausahaan bagi mahasiswa-mahasiswanya karena selain trend perguruan tinggi di seluruh dunia mengarah ke sana, melalui kewirausahaan juga dapat dikembangkan keterampilan softskill yang dibutuhkan oleh dunia usaha dan dunia industri, sehingga lulusannya menjadi semakin adaptif terhadap tuntutan dunia kerja. Selain itu, usaha-usaha pendayagunaan teknologi informasi dalam setiap aspek pengelolaan perguruan tinggi maupun dalam proses pendidikan perlu terus ditingkatkan.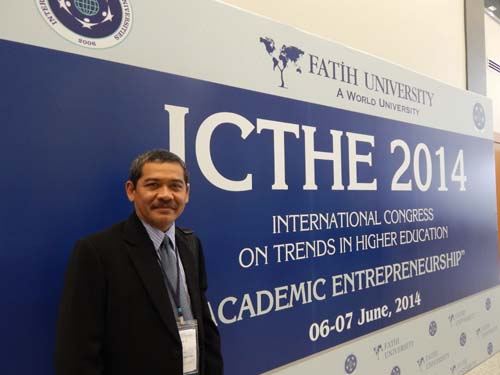 Salam persahabatan dunia.